Publications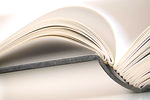 Read our © policy
Some samples of publications originated from the work of the SCAT grantees during their mobility, or from collaborations among the members of the project.
Spiraling cracks
Fast multipole method for particle simulations
Large subduction earthquakes
Spiraling cracks
SCAT grantee Victor Romero obtained a mobility grant to visit the Laboratoire Physique et Mécanique des Milieux Hétérogènes starting in September 2007. The research carried out during his visit was in the topic of fracture of thin sheets. Doing an experiment on fracture and comparing the results with computer simulations, the group was able to describe important features of the crack process.
The work was presented at the 2008 Annual APS meeting, in New Orleans.
Victor has received a scholarship from CONICYT in Chile, within the program Colegio Doctoral Franco Chileno, to continue working in Paris, now as a joint PhD student in the new "cotutelle" agreement signed by Université Pierre et Marie Curie and Universidad de Chile.
V. Romero, B. Roman, E. Cerda, "Spiraling cracks in thin sheets".
Fast multipole method for particle simulations
Felipe A. Cruz was one of the first students to be awarded a SCAT mobility grant. He graduated from Ingenieria Informática at Universidad Técnica Federico Santa Maria, and continued on for an MSc degree in the same field.
He was hosted at the University of Bristol from September 2006, and worked for 10 months on what became his MSc thesis. The work, supervised by Dr Lorena Barba, was presented at the 8th World Congress of Computational Mechanics in Venice, July 2008.
As a direct consequence of his SCAT mobility, Felipe started an exciting PhD, funded by BAE and Airbus. The work since, has been presented at the 20th International conference on Parallel Computational Fluid Dynamics in Lyon, May 2008.
F. A. Cruz, L. A. Barba, "Characterization of the FMM approximation in particle simulations".
F. A. Cruz, L. A. Barba, M. G. Knepley, "Fast multipole method for particle interactions: an open source parallel library component".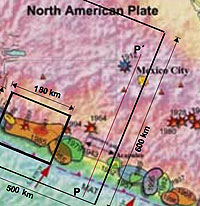 Rectangle showing the rupture area
of a 1985 magnitude 8.1 quake.
Large subduction earthquakes
During the 2nd Latinamerican SCAT Scientific Workshop, held in Mexico in November 2007, the first conversations were held leading to an exciting collaboration among SCAT members.
In January 2008, Mario Chavez from the UNAM Institute of Engineering was invited to visit Daresbury Laboratory. During his visit, he was able to carry out extensive benchmarking on a 3D seismic wave propagation code, using local resources HPCx and HECToR. The computations, using up to 8192 processors, were fully funded by Daresbury Lab.
The results were presented at the EuroPVM/MPI conference in Dublin, September 2008.
M. Chavez, E. Cabrera, R. Madariaga, N. Perea, C. Moulinec, D. Emerson, M. Ashworth, A. Salazar, "Benchmark study of a 3D parallel code for the propagation of large subduction earthquakes".
Earthquake simulation work was showcased in HPCx News.