Second Latin American SCAT Workshop
hosted by Universidad Nacional Autónoma de México, UNAM
Island of Cozumel, 12-16 November 2007.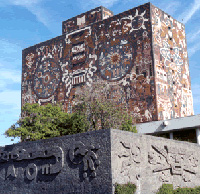 UNAM Central Library building, with
mosaic by Juan O'Gorman.
This event is locally organized by the SCAT partners at UNAM, with the support of the SCAT coordinating office in Bristol.
The National Autonomous University of Mexico (in Spanish, Universidad Nacional Autónoma de México, abbreviated UNAM) is the educational institution of greatest academic and cultural tradition in the country. Its history goes back to 1551, when it was founded as the Real y Pontificia Universidad de México. Oficially renamed UNAM in 1910, it has educated some of the most illustrious personalities of science, humanities and arts in Mexico and Latin America. Among them are Nobel laureates Alfonso García Robles (Peace, 1982), Octavio Paz (Literature, 1990) and Mario Molina (Chemistry, 1995).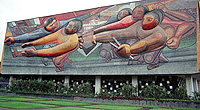 UNAM is famous for her murals;
this one is by David Alfaro Siqueiros.
UNAM is considered the sole most important university in the Spanish-speaking parts of the world, according to a study by Peking University. It is also the largest University in Latin America, with 285,000 students and 33,000 staff. Its main campus in Mexico City covers 7.3 square kilometers, and its endowment amounts to US$2 billion.
Undoubtedly an institution of tremendous proportions, UNAM is also widely know for its academic freedom and independence (it gained autonomy in 1920, being free to define curricula and manage budgets without government interference). It is arguably the place with more political discussion in Mexico, and has among its alumni various influential politicians (and seven past Presidents of Mexico).
Some content sourced from the UNAM page at Wikipedia >>
Thematic Focus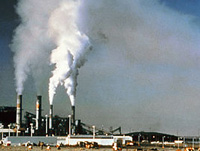 Pollution modelling is a topic of
priority for developing nations.
The thematic focus of this workshop is: "Mathematical Computation for Development, Resources and Environment".
The objective of this workshop is to bring together members of the SCAT project in Europe and Latin America with scientists in Mexico, to discuss how the power of computational research must help the country and the region in the goals of: economic development, exploitation and sustainable management of resources, environmental protection, and the understanding of pollutant dispersion and public health issues.
As in all SCAT events, the focus is on scientific research, and international collaboration. In this opportunity, examples of specific topics of interest include:
fluid flow in porous media
dynamics and acoustics of gases, fluids and solids
dispersion of contaminants in air, water, soil
modelling in biological and health sciences
mathematical modelling of infectious disease spreading
computational toxicology
clean energy research and its computational aspects
environmental impact, environmental geophysics
modelling of climate
impact of high performance computing
Programme
The programme included research presentations by attending SCAT members, as well as by invited Mexican scientists and graduate students.
As has become a tradition in SCAT meetings, we take one afternoon off for a social event. This time, we made a cultural visit to the Maya ruins at Tulum, where we had the special treat of hearing on-site lectures by a local archaeologist.
Daily programme of activities, courses and scientific presentations.
Location
This workshop took place in the island of Cozumel, on the Yucatan Peninsula. This was made possible by additional funding obtained from UNAM and CONACyT, which allowed the Mexican participants to travel and fund their stay. This funding allowed the participation of more than a dozen graduate students at UNAM.
Meetings and Events
---
Related Information
---
Links
---
Contact Information
SCAT Project manager:
+44 117 331 1805
Dept. of Mathematics
University of Bristol
General Enquiries:

---