A new successful grantee story
August 2008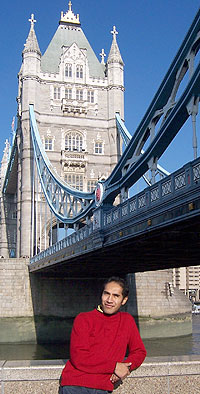 Luis M. de la Cruz visiting the
Tower Bridge in London.
Daresbury, UK — Luis M. de la Cruz completed a 10-month post-doc at the Computational Science & Engineering Dept. of Daresbury Lab, where he worked with Dr David Emerson and his group.
He now has returned to Mexico, to a position at the Directorate of Research Computing, DGSCA (Dirección General de Servicios de Cómputo Academico), at UNAM. This organization is in charge of the operation of all the centralized computing systems of the university, and overall training in information technology. One third of the members of DGSCA are students doing internships or writing theses. The organization not only offers a wide variety of services to the university community, it carries out research and maintains collaborations with other institutions.
The experience of working at a world-class computational laboratory will no doubt help Luis Miguel in his future undertakings in academic computing. He also has a new network of friends and collaborators to enhance his career.
We wish him the very best for the future!
Luis Miguel joins the list of SCAT grantees that have finished their research visit and gone to other successes:
Personal statement
Here is the personal point of view of Luis M. de la Cruz, on his SCAT grant:
"I can describe my academic and social life as before SCAT and after SCAT. Before I got involved in this project I was working at the Directorate of Computing for Research, DGSCA-UNAM, after obtaining my PhD in Computer Science at IIMAS-UNAM, both in Mexico. It was a great time because I learnt a lot of mathematical and computing stuff, but something was missing.

After 10 months at Daresbury Lab, working in the group of Dr. David Emerson, I finally knew what had been missing: the chance of discussing interesting topics on scientific computing and exchanging ideas with experts of different fields and several countries, and not just read the papers. That was fantastic! Besides, to have the opportunity to know the way one of the most prestigious supercomputing centers works was invaluable.

During my stay at Daresbury, I dedicated most of my time to analizing, designing and implementing a framework for solving Partial Differential Equations (PDEs) using Radial Basis Functions (RBF). It was not easy because it was my first time dealing with RBFs and my purpose was to produce a tool that could be used in any platform and be easily adaptable to solve different kinds of CFD problems, and was also able to run in sophisticated supercomputers.

At the end of my project I released a very first version of this framework which is open source and can be used by anyone interested in this kind of methods. The framework is called TUNA::RBF and can be obtained from my homepage (tuna is a fruit that can be found in Latinamerica, one of the things I missed most during my stay in England).

On the social part, me and my family learnt a lot of very interesting
things about Europe and particularly about the UK. In our opinion, the UK is one of the most beautiful countries in the world with an incomparable historical heritage. My two daughters really enjoyed the school, and the many castles we had the opportunity to visit around the UK."

>> Visit Luis Miguel's website
Describes the visit and results of the research collaboration during the grantee's mobility.
Project title: "Meshless method for solving CFD problems using an Object-Oriented approach".
News
---
Contact Information
Project leader:
Project manager:
Dept. of Mathematics
University of Bristol
Contact us:

---