First SCAT grantee returns home and starts his PhD
February 2007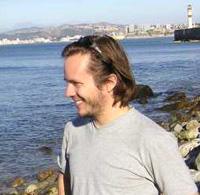 Helmut Wahanik, now back home
and no doubt enjoying the sun.
Bristol— After six months working within the Fluids Group of the Department of Mathematics at the University of Bristol, SCAT grantee Helmut Wahanik has returned to Rio de Janeiro. He will commence his doctoral studies at IMPA under the supervision of Prof. André Nachbin.
In Bristol, Helmut worked supervised by Dr. Lorena Barba, studying spectral methods for the simulation of fluid flow. He wrote a spectral code in Matlab for the simulation of a problem of vortex dynamics in which a tripolar vortex is seen to emerge under certain conditions. Read more about Helmut's research project in his mobility report, below.
Helmut described his experience, "the SCAT experience", with the following words:
"The project has been very interesting not only in the academic and professional, but also in the personal sense. As my studies have been mainly in Pure Mathematics, it has been a challenge for me to get involved in practical computation; nevertheless I made it! It was like a huge adventure game: sometimes I felt I was going backwards and everything was lost ... suddenly the storm opened a little bit and a tiny beam of light went through; then I was rushing again sailing with all thrust!

I specially remember the big trouble we had trying to figure out why the simulation of the tripole was running so slow. We knew what would solve the problem, but we didn't know why this wasn't working! After several trials for revealing the mystery, I sat down at my desk and told myself: It's now or never!
One hour later I found the final solution and went running to Lorena's office --it was about 9pm already.

I owe special gratitude to my supervisor at Bristol, Lorena Barba, to André Nachbin, my supervisor at IMPA, and to Boris Drappier, the SCAT project manager. Thanks to Ashley Willis for his help with spectral methods programming."
In his report, Helmut described what he learned about spectral methods, and the spectral code he developed.
Helmut Wahanik's project title: "Spectral Method for the Vortex Tripole" .
News
---
Contact Information
Project leader:
Project manager:
Dept. of Mathematics
University of Bristol
Contact us:

---