More SCAT grantee success
March 2008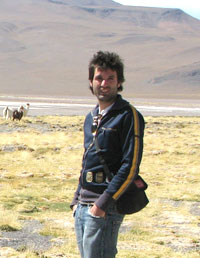 Thomas Séon visiting the desert
and San Pedro de Atacama.
Santiago—After a PhD at Université Pierre et Marie Curie in Paris under the supervision of Dr. Jean-Pierre Hulin, SCAT grantee Thomas Séon worked one year as post-doctoral fellow in the Facultad de Ciencias Físicas y Matemáticas at the University of Chile, with Profs. Felipe Barra and Nicolás Mujica.

Upon concluding his SCAT mobility to Chile, Thomas accepted a post-doctoral position at the Department of Mathematics, in the University of British Columbia, Canada, to work with Prof. Ian Frigaard.

He is the fourth SCAT grantee to complete his period of research abroad. Previously, Helmut Wahanik, Leonardo Gordillo, and César Gómez have finished their visits. A fifth SCAT grantee, Felipe Cruz, has officially finished his mobility period but remains in the host institution, now as a registered PhD student.
Personal statement
Here is the personal point of view of Thomas Séon, on his SCAT grant:
"When I was finishing my PhD in 2006 I really wanted to do postdoc years abroad. So, when I met SCAT (during the Second European SCAT Workshop in Paris, 25-29 September 2006) and I knew that I could apply for a grant to work in South America, it seemed an excellent opportunity for me! Actually, I had already heard many compliments about nonlinear physics and hydrodynamics in Chile, and I really wanted to learn Spanish.

The main objective of my project there was to research on the macroscopic behaviour of matter out of equilibrium from an experimental, numerical and theoretical point of view. This Laboratory with all the researchers that I met, and more generally the University of Chile, seemed to me as a particularly favourable environment for such a research. I am sure that this postdoctoral year financed by SCAT allowed me to expand my research experience in the field of Nonlinear Macroscopic Physics. But not only that! This year also allowed me to learn Spanish, to improve my English, and to get acquainted with the Chilean culture, those marvelous Chilean people and ... the Pisco sour!

Finally, I met of course a whole community of excellent researchers with which, I am sure, I will stay in contact. And in addition to the many collaborations between both French and Chilean researchers in the field of macroscopic physics, I'm already glad to be able to pursue these very rewarding collaborations.

As a conclusion, I am especially thankful to both my supervisors at the University ofChile, Felipe Barra and Nicolás Mujica who supported me and helped me whenever I needed. I also thank Mr Boris Drappier, the SCAT project manager, for his important help during this year, and more generally the SCAT project for everything I have just presented here!
Describes the visit and results of the research collaboration during the grantee's mobility.
Project title: "Experimental, numerical and theoretical studies on the macroscopic behaviour of matter out of equilibrium".
News
---
Contact Information
Project leader:
Project manager:
Dept. of Mathematics
University of Bristol
Contact us:

---