Home
/ Meetings and Events
Meetings and Events
Note: The SCAT project organized 10 international meetings in its nearly 4-years duration. The last meeting with EC funding was held in Valparaiso, July 2009.
Overview
The main goal of any ALFA project is to consolidate a partnership of institutions of higher education and research. One of the two most important actions that accomplish this goal is the Programme of International Meetings. The other important action is the Programme of Scholarships or mobility grants. Through both of these, we provoke an accelerated knowledge-transfer in the areas of scientific computing and its applications in science and engineering.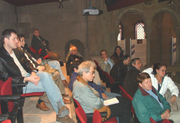 Group of SCAT members at the
site of MareNostrum, Barcelona.
The meetings programme is carried out on a three-yearly scheme, and thus provides a continued forum for collaboration and discussion, addressing the topics of the project. The events are programmed to take place at the locations of the different network partners, and in each case the host institution will invite the participation of their wider academic/research community.
The SCAT project was launched in Barcelona, at the campus of Universitat Politécnica de Catalunya, in February 2006. On this occasion, representatives from the 10 partner institutions made scientific presentations related to their research programmes. They also discussed the project actions, and organized the first round of mobility grants. The meeting was highlighted by an official visit to Barcelona Supercomputing Centre, housing MareNostrum, the fastest computer in Europe and 8th in the world (November 2005 top500).
The subsequent SCAT international meetings focus in topics such as Advanced Computational Research, Mathematical Modelling, Scientific Computing for Engineering, and specific application areas, such as fluid dynamics, weather and environment, and others. See the calendar of meetings, below.
Calendar of SCAT meetings
Month, location and topic of SCAT meetings
20-24 Feb. 2006
SCAT project launch, Barcelona.
26-30 June 2006
First European Scientific Workshop, Daresbury UK. Advanced Computational Research.
25-29 Sept. 2006
Second European Scientific Workshop, Paris. Mathematical Modelling and Challenges in Computational Science.
4-12 Jan. 2007
First Latin American Scientific Workshop, Chile.
Advanced Scientific Computing and Applications
4-10 June 2007
Third European Scientific Workshop, Marseille.
Modelling and Simulation of fluid vortices, and vortex sheets.
12-16 Nov. 2007
Second Latin American Scientific Workshop, Mexico. Mathematical Computing for Development, Resources, Environment.
24-28 March 2008
3rd Latin American Scientific Workshop, Rio de Janeiro. Computational and Mathematical challenges in Wells, Waves & Weather.
26-30 May 2008
4th European Meeting, Bristol UK. Computational Science and Engineering: a truly interdisciplinary field.
29 Sep. to 4 Oct. 2008
4th Latin American Meeting, Santiago, Chile. Developing a Vision for Advanced Computational Scientific Research in the Region.
20-24 July 2009
Final SCAT Meeting, Valparaiso, Chile. High performance computing trends for 2010 and beyond
Meetings and Events
---
Related Information
---