4th European SCAT Workshop
hosted by University of Bristol, UK
Bristol, 27-31 May 2008.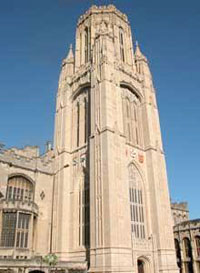 The Wills Memorial Building, centre
of the university precinct, and the
venue for graduation ceremonies.
This event is organized by the SCAT project's coordinating institution, the Department of Mathematics at the University of Bristol.
Bristol is recognized as one of the best universities in the UK, its academic standards have been high since the university was founded in 1909. Nestled in the heart of this lively, creative, multicultural city, it comprises about 370 buildings.
Within the university, the Department of Mathematics is one of the largest departments in the Science Faculty, with 55 members of the academic staff, 30 research assistancts and about 60 postgraduate students. It undertakes research in a wide range of areas in Applied Mathematics, Pure Mathematics and Statistics and has an international reputation for excellence.
The Department of Mathematics is a multinational place, with staff from Australia, Belgium, Chile, Denmark, France, Germany, Hungary, India, Ireland, Israel, Italy, Japan, Netherlands, Poland, Portugal, Russia, Ukraine, UK, USA and Vietnam. The diversity of talent and training fosters a unique outward-looking Department that connects with Mathematics worldwide.
The Department has collaborative research programmes with a number of other Departments, including Biological Sciences, Earth Sciences, Computer Science and Physics, as well as a range of projects in collaboration with the Medical School. Additionally, there have been several new research initiatives, in which mathematics is playing a central role. These include number theory (Heilbronn Institute for Mathematical Research), complexity science (Bristol Centre for Complexity Science), Nanoscience (Centre for Nanoscience and Quantum Information), and high performance computing (Advanced Computing Research Centre).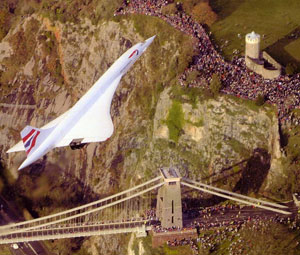 The last Concorde flight arrived in Bristol, where
the plane was designed and built in the 1960s and 70s.

The city of Bristol (whose old English name means "the place at the bridge") is very rich in culture, innovation, creativity, and fun.
Watch the short video "Introducing the city" on the University's informative page about Bristol.
The meeting location will be only a few minutes walk from the famous Clifton Suspension Bridge, pictured here on the day of the Concorde's last flight.
Thematic Focus
More than 20 SCAT grants have been awarded! — We would like to invite all SCAT members to prepare an overview presentation of the work carried out by SCAT grantees during their mobility.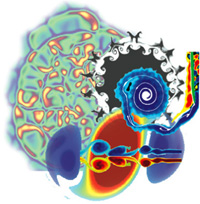 Computational science involves
applied mathematics, algorithms
and numerical methods, and an
application area.
The thematic focus of this workshop is: "Computational Science and Engineering: a truly interdisciplinary field".
The objective of this workshop is to bring together members of the SCAT project in Europe and Latin America with scientists in Bristol, to discuss the latest development in computer simulations in all areas of science.
Bristol has invested heavily in high-performance computing (HPC), through its Advanced Computing Research Centre (ACRC). This facility provides the Bristol University community with a state-of-the-art environment for computational research. The University recognized that HPC is a crucial element of research in areas such as climatology, drug design, aerospace, and many others.
The ACRC supercomputer, dubbed BlueCrystal, has been launched on May 1st, 2008.
SCAT is inviting members of Bristol's HPC community to present at this event.
An HPC-themed issue of the University of Bristol's research magazine, with contributions from scientists across many departments.
As in all SCAT events, the focus is on scientific research, and international collaboration. In this opportunity, examples of specific topics of interest include:
Advanced algorithms
Numerical methods, numerical analysis
Computing techonology: harvesting the power of new hardware
Parallel computing
Application-specific developments

Chemistry, Physics
Computational fluid dynamics
Biological sciences
Atmospheric science
Earth sciences
Etc.
Programme
The programme will consist on research presentations by attending SCAT members, as well as by invited scientists and graduate students at Bristol University.
As has become a tradition in SCAT meetings, we take one afternoon off for a social event. This will be announced soon.
Daily programme of activities, courses and scientific presentations.
Location and How to Get There
The meeting is to be held in the historic city of Bristol, near the university precinct.
By Air
Arriving by air, there is only one airport in the city: Bristol International Airport (BRS). It is about 25 minutes away from the City Centre by car. There is also a frequent shuttle bus service that runs from the airport to the University: see the Bristol Airport Guide.
If arriving to any of the London airports, there are frequent and in most cases, direct coach services from the airports to Bristol (from London Victoria station, travel time is approximately 2 hours 30 mins).
By Rail
The main train station in London for trains to Bristol is London Paddington (travel time approximately 1 hour 40 mins). Bristol is located about 200km west of London.
Accommodation
We have made a block booking at Hotel Ibis Bristol Centre. This hotel has been chosen for its amenities to guests and central location; it is within walking distance of the University and most of the city's attractions. This will allow you to sample the delights of one of the most cosmopolitan cities in the UK!
Meeting Hotel, general information, how to get there, rates and bookings, parking, area map and getting around.
Meetings and Events
---
Related Information
---
Links
---
Contact Information
SCAT Project manager:
+44 117 331 1805
Dept. of Mathematics
University of Bristol
General Enquiries:

---