Final SCAT Meeting & Satellite School
hosted by Universidad Tecnica Federico Santa Maria
Valparaiso, 20 - 24 July 2009.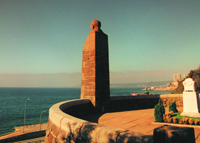 The university has breathtaking
views of Valparaiso bay.
Universidad Técnica Federico Santa María is one of the most prestigious institutions of higher study in Chile. It owes its origin to the idea of the visionary businessman Federico Santa María of creating an institution of higher education that would transform teaching of science and technology in Chile.
In the early 1920's, the businessman Federico Santa María decided to leave a gift to the city of Valparaíso and the country. His intention was to help talented students who did not have the means to pursue studies, to enable them to contribute to the development and progress of Chile. A foundation was created in 1926 to organize, maintain and develop several schools of arts and crafts, and schools of engineering, in different locations of the country. One of them was the Escuela de Artes y Oficios y Colegio de Ingenieros Jose Miguel Carrera, which opened in 1931. The official title changed in 1935 to Universidad Técnica Federico Santa María.
The university gave a great push to research in technology in the mid-twentieth century, creating the Graduate School in 1960; it was the first university in Latin America to confer the degree of Doctor in Engineering in 1963.
Today, Universidad Santa María has several additional campuses in the main cities of Chile, as well as an international campus in Ecuador. In the year 2000 it created –in partnership with Lan Chile airlines– the Academy of Aeronautical Sciences in Santiago, the first of its kind in Latin America.
Thematic Focus
SCAT final meeting — This meeting is an additional event to the 9 scheduled meetings of the 3-year SCAT project, made possible by an extension granted by the EC, and local sponsors in Chile.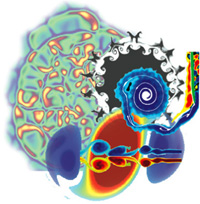 Computational science involves
applied mathematics, algorithms
and numerical methods, and an
application area.
The thematic focus of this event is:
"High performance computing trends for 2010 and beyond"
The objective of this workshop is to bring together members of the SCAT project in Europe and Latin America with scientists in Chile, to discuss the techniques and needs required for the next generation of computational scientists.
During the week, there will be place for seminars, short courses and open discussions.
As in all SCAT events, the focus is on scientific research, and international collaboration. In this opportunity, examples of specific topics of interest include:
non-traditional numerical methods and new algorithms
emerging hardware technologies
educating a new generation of computational scientists
immediate needs for research and challenges
life-cycle of the parallel applications
new hardware and software models
Poster Announcement
The short courses are open to all interested students locally, at no cost.
Programme
The programme will consist on research presentations by attending SCAT members, as well as by invited scientists and graduate students at University of Chile.
As has become a tradition in SCAT meetings, we take one afternoon off for a social event.
Daily programme of activities, courses and scientific presentations.
Course Descriptions
There will be a series of short courses during the "Satellite School". Descriptions of the courses will be added here as they become available.
Satellite School Lecturers
Lorena Barba, University of Bristol (UK) and Boston University (US)
Felipe Cruz, University of Bristol (UK)
Stephane Zaleski, Institut Jean le Rond d'Alembert (France)
David Emerson, Daresbury Laboratory (UK)
Charles Moulinec, Daresbury Laboratory (UK)
Andrew Sunderland, Daresbury Laboratory (UK)
X Gu, Daresbury Laboratory (UK)
Mario Chavez, Universidad Nacional Autonoma de Mexico, UNAM
Jean-Pierre Clerc, Institut universitaire des systèmes thermiques industrielles IUSTI (France)
Andres Fuentes, IUSTI (France)
Bernard Porterie, IUSTI (France)
Manel Soria, Universidad Politecnica de Catalunya (Spain)
Jorge Zubelli , Instituto de Matemática Pura e Aplicada, IMPA (Brazil)
By Dr Andrew Sunderland
An introduction to the theory and practice of parallel programming through a series of short lectures coupled with practical programming sessions.
By Felipe A Cruz
An introduction to the CUDA architecture and programming model, for the exploitation of massively parallel graphics processors.
By Dr Manel Soria
(In Spanish.) Curso introductorio a los métodos DNS y LES para simular flujos turbulentos. Incluye aplicaciones al sector de la energía renovable.
By Prof Stephane Zaleski
Volumetric tracking, piecewise linear interface reconstruction; exactly-conserving VOF methods, oct-tree adpative mesh; introduction to lattice gas cellular automata and multiphase lattice Boltzmann.
By Prof David Emerson
Introduction to the field of low-speed nonequilibrium flow; some simple examples illustrating unusual phenomena; extending the Navier-Stokes equations to model nonequilibrium flows.
Location
The conference and satellite school will both take place in the campus of Universidad Técnica Federico Santa María, Valparaíso

The citizens of Valparaíso orient themselves by the named hills which surround the bay. Each "cerro" has its own character and sights. Cerro Alegre is characterized by the beautiful houses built there by English businessmen in the 19th century, now adorned by bright colors.
Conference Hotel
The organizing committee has negotiated a reduced rate and block-booked a number of rooms in the excellent hotel Monterilla: "The best kept secret in Viña del Mar". You can find more information in the PDF file below.
Facilities, rates and bookings, and some transport tips from the airport.
Deadline for booking — 10 July 2009 — You must book yourself with your credit card, quoting the ref. SCAT. You can do this online at their website, and confirm dates by phone. Cancellation policy: 48h prior to check-in with no charge.
Social activity
Participants will all be pleased to know that the organizing committee has planned a tour of the fantastic wineries of Casablanca valley.
Social afternoon — enjoy a tour of the well-known producer of the best white wines in Chile: the valley of Casablanca.
Industrial Sponsors
The workshop and summer school has received the generous sponsorship of Adexus.

Note: Industrial sponsors help fund the production of the meeting, including coffee breaks and buffet lunches, and are provided by selected vendors who showcase their technology during a special session at the meeting.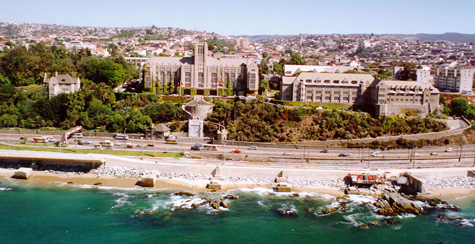 A view of the oceanfront campus of Santa Maria University.
Meetings and Events
---
Related Information
---
Links
---
Contact Information
SCAT Project manager:
+44 117 331 1805
Dept. of Mathematics
University of Bristol
General Enquiries:

---