SCAT project launch at Technical University of Catalunya
February 2006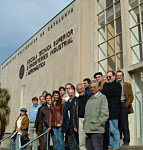 SCAT members at UPC
for the project kick-off
Barcelona— During the week starting on 20 Feb. 2006, the Scientific Computing Advanced Training (SCAT) project was launched at the Terrassa Campus of Technical University of Catalunya. The meeting was hosted by the Polytechnic School of Industrial and Aeronautical Engineering, and organized by the local SCAT members at the Technological Centre for Heat and Mass Transfer, and the SCAT co-ordination personnel.
Representatives from all the 10 partner institutions of SCAT were present, and gave a series of scientific talks. The subjects spanned the wide spectrum of interests of the network, including:
Computational fluid dynamics
Elasticity, granular materials, microfluidics
Multiphase flows, and related numerical methods
Combustion, turbulence, interfaces
Statistical physics, nonlinear phenomena
Nonequilibrium systems, superfluid models
Fluid dynamics and wave theory
Environmental modelling
Inverse problems in biophysical sciences
Heat transfer, thermodynamics and physical chemistry
Optimization methods
Mathematical modelling of Earth systems
Wavelet analysis and images
In addition, the group made an official visit to Barcelona Supercomputing Centre, where they were offered talks describing MareNostrum, the fastest computer in Europe and 8th in the world by November 2005, and toured the facilities. MareNostrum is breathtakingly housed in an old chapel of Girona Tower, in Barcelona.
A humorous introduction of some of the participants to the SCAT launch, with the soundtrack of the tango "Cambalache" (1.2 MB).
Appearances in the Press
Prepared by the Technical University of Catalunya Press Office, in Calatan.
Dr. Lorena Barba, SCAT co-ordinator, was interviewed for the local press during the project launch.
Perfiles is the information bulletin of the Technical School of Industrial and Aeronautical Engineering of Terrassa.
News
---
Contact Information
Project leader:
Project manager:
Dept. of Mathematics
University of Bristol
Contact us:

---