About Us
Overview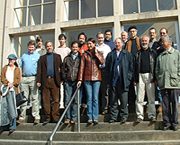 SCAT members at the project launch.

Scientific computing is now a necessary avenue for enquiry and research in most fields of science and engineering, taking a place side-by-side to mathematical and physical analysis and experimental methods.
Numerical modelling finds application in diverse scientific domains, such as:
applied mathematics
mechanics of fluids and solids
bio-engineering
geophysics and earth science
environment, climate modelling
large-scale engineering problems
The SCAT project brings together research groups belonging to the network partners to develop a synergy and a common vision in the use of scientific computing in balance with analysis and experiments, for the production of high-quality research.
Who are we?
The SCAT project is an international collaboration involving 10 leading research institutions in the UK, France, Spain, Chile, Mexico and Brazil. The research groups have different areas of focus. Some groups have more experience with computational research, others carry out experiments and perform theoretical studies, and yet others are more involved in engineering applications. This multi-disciplinary combination is crucial in the area of Computational Science and Engineering (CSE).
There are more than 40 people involved in the SCAT project, one project manager (based in the co-ordinating institution, University of Bristol) and the researchers and professors in all the network partners. All these people are highly trained professionals who share a committment to international collaboration and a belief that scientific computing will increasingly play a dominant role in the processes of scientific discovery and engineering design.
What we do
We provide training in scientific computing and offer mobility grants to post-graduate students and post-doctoral fellows.
We organize scientific meetings and short courses, and develop online materials for self-learning, aiming to enhance discovery through simulation.

We offer grants for graduate students at the MSc or PhD level to spend an extended period of study and research at another partner institution. Grant-holders from Latin America will join some of the best research groups in Europe, and viceversa, and thus we promote international collaboration.

Three times per year, we organize international meetings at one of our partner institutions. These events provide a forum for discussion and collaboration in the scientific areas of our interest: advanced computational research, mathematical modelling, and application areas in fluid and solid mechanics, nonlinear physics, microfluidics, and more.

Many of the skills needed in computational research are obtained by self-study. Programming computers is like riding a bike, you have to actually do it to learn. But many helpful tools can be devised to help: guides, lecture notes, videos, code snippets. We are working to put together a set of online learning material. Visit our site often!
How is this project financed?
The SCAT project is co-financed by a grant from EuropeAid, through the ALFA Programme. ALFA stands for "America Latina - Formacion Academica", in Spanish. It is a multi-year programe of academic co-operation between the European Union and Latin America. The goal of the ALFA Programme is the promotion of co-operation in higher education, as a means of fostering economic and social progress by improving the conditions of training of highly qualified human resources.
We prepared a proposal for the SCAT project, which was submitted for the 10th round of ALFA in October 2004. After a highly competitive selection process, we were one of only six successful projects in this round. The negotiations with the Commission concluded with the signing of a three-year contract, on 24 Novermber 2005.
But in addition to the European Commission, the project receives the funding of the network partners themselves. We have a committment of 25% co-financing, which we satisfy by partially paying for trips, scholarships, conference costs and other expenses. We truly believe in the mutual benefits of international collaborations, and our institutions support us.
General Enquiries
Email:
About Us
---
Related Information
---
Contact Information
Project co-ordinator:
+44 117 954 6883
Dept. of Mathematics
University of Bristol
Project manager:
+44 117 331 1805
Dept. of Mathematics
University of Bristol
General Enquiries:

---