Research
Overview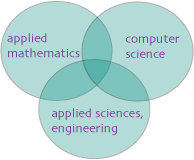 Computational Science and
Engineering is multidisciplinary.
Scientific computing is a multidisciplinary activity, which refers to the utilization of computational simulation for the study of physical systems with the aim of scientific discovery. Sometimes the same approach is used in large-scale engineering design. Hence, the term Computational Science and Engineering (CSE) has become common.
CSE is multidisciplinary because it is first based on mathematical models, which are then implemented into appropriate software able to produce predictions regarding the behaviour of the systems represented by the models. The result is a powerful tool which can be used for scientific discovery and engineering design in the most diverse of applications. The power of CSE is most clearly evidenced when it is used for studying problems which have become intractable by analytical methods, or that are impossible to study by means of experiments. For example, studying world climate, predicting the damage to large structures caused by earthquakes or explosions, probing the mechanisms of DNA replication, designing new materials ... all of these fields would be impossible without scientific computing.
Computational science and engineering is an academic enterprise which integrates knowledge from mathematics, computer science, and the application field in science.
Mathematics — In the process of computational modelling, theoretical scientists first lay the foundations by describing the physical world and phenomena in mathematics.
Computer science — The term is used here to mean developing mathematical algorithms and providing the basic computer software to represent the mathematical models. In addition, computational scientists need to make efficient use of high-performance computing equipment, and benchmark the new software.
Science or engineering — The applied component is essential in computational science. The application areas are very diverse: physics, chemistry, astronomy, fluid dynamics, bioengineering, electromagnetics, quantum mechanics, molecular biology, and others, plus engineering of structures, electronics, energy systems, aeronautics and so on.
The SCAT partnership
The Scientific Computing Advanced Training (SCAT) project brings together research groups in 10 world-leading academic and research institutions, in six countries. We all recognize that scientific computing will increasingly play a dominant role in the processes of scientific discovery and engineering design. Hence, the project aims to increase the training level of young scientists in Europe and Latin America in the techniques of scientific computing, and create a long-term partnership for the advancement of this way of doing science.
The SCAT partners have different and complementary expertise. Some groups have more experience with computational research, others carry out experiments and perform theoretical studies, and yet others are more involved in engineering applications. This multi-disciplinary combination is crucial in CSE, as discussed above.
More about the research topics of SCAT partners >>
Slides of the presentation "Research Summary of SCAT Partners", by Lorena Barba, prepared for the Daresbury SCAT meeting (based on the talks given at the project launch in Barcelona, Feb. 2006)