SCAT Second Interim Report sent to Brussels
January 2008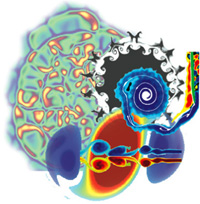 A collage of images from the
research results of SCAT members
Bristol— The SCAT coordination office has concluded the production of the Second Interim Report, describing the activities of a period of 10 months starting on February 2007. The First SCAT report covered from the start date of 25 November 2005 until end of January 2007 (14 months).
In the first report period (submitted March 2007), we reported 3 rounds of selection for mobility grants, with 8 grants awarded, and 4 international meetings plus one summer school.
In this second period, we can report a steady continuation of our activities. Two more selection rounds have been held for mobility grants, with 7 grants awarded in the first and 4 grants awarded in the second. Hence, SCAT has awarded a total of 19 grants so far —one of these was declined by the grantee, and one is deferred, while 4 were awarded but had not yet commenced at the report's publication date. Two more international meetings have been held in this period, bringing the total to 6 meetings in two years (as scheduled in the proposal stage).
The project continues to offer a professional and informative web site, and we have continued to disseminate our activities to the wider academic communities in the countries of the partners.
Read about the activities of the SCAT project in detail in the 2nd Interim Report, made available to all visitors of our web site (below).

Presenting the activities of 10 months of project (from Feb. 2007 to Nov. 2007), in regards to Mobility Grants, International Meetings and Courses, Dissemination, and Distance Collaboration.
News
---
Contact Information
Project leader:
Project manager:
Dept. of Mathematics
University of Bristol
Contact us:

---